About Us
Our aim is to create modern board and card games that are aesthetically pleasing, offer a different experience each time they are played, and successfully tread the fine line between rewarding strategy and luck.
Originally started in 2011 by Amanda Milne and Julia Schiller, the company is based in Auckland, New Zealand. In May 2014 Julia left to start a new business.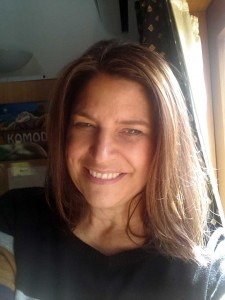 Amanda says: "I grew up in Wembley, North London, studied Geography and Politics at University in Wales before working as a transport planner at the London Underground HQ. I've always been into games and started the Backgammon society at my college.
"I've lived in New Zealand since 1992 and worked for Auckland University for many years. I have done two stints as Chair of Mensa New Zealand. I've found my vocation as a Game Designer!"
You can reach me at amanda@schilmilgames.com

Amanda Milne of SchilMil, Julia Schiller and Richard Durham are interviewed about the appeal and design of board games. Sep 2022

Posted:

Monday 26 September 2022

AuZtralia successfully Kickstarted, with over $250,000 pledged in March 2018

Posted:

Thursday 1 March 2018

Kolossal Games signs Monster Rock designed by Martin Wallace & Amanda Milne. (Dec 2017)

Posted:

Friday 1 December 2017

German reviewer Michael Vaupel rated Komodo in his top 3 games at Essen Spiel 2015.

Posted:

Sunday 1 March 2015

Your business: Chance sets game duo on their way, New Zealand Herald (online edition, also in the print edition)

Posted:

Monday 17 March 2014

Press Release: Kiwi duo dicing with pirates on Kickstarter, 6 March 2014

Posted:

Thursday 6 March 2014

Amanda Milne talks to Jim Mora on Radio New Zealand (about herself, the games industry, Manifest kickstarter and her best song ever written):

Posted:

Wednesday 5 March 2014

Posted:

Thursday 5 December 2013

Posted:

Wednesday 28 August 2013

Posted:

Wednesday 12 June 2013

Raid the Pantry is a recommended 'Side Dish' in Dish magazine April/May 2013

Posted:

Wednesday 1 May 2013

Press Release: Anglo-American Duo Take Kiwi-Designed Games to Melbourne,
27 February 2013

Posted:

Wednesday 27 February 2013

Interview with Julia Schiller: New Zealand Herald Business feature, 6 Dec 2012

Posted:

Thursday 6 December 2012

Posted:

Friday 21 September 2012

Posted:

Wednesday 12 September 2012

Posted:

Saturday 12 May 2012